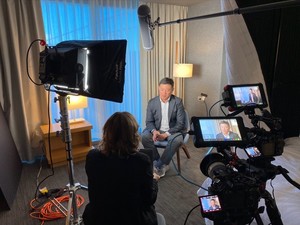 Yuyu presents a candidate for the treatment of dry eye at an ophthalmology meeting in the United States
[ad_1]
Yuyu Pharmaceutical CEO Robert Yu promoted YP-P10, a candidate for the treatment of dry eye syndrome, at the 2022 American Academy of Ophthalmology (AAO) conference held in Chicago, United States, from last Friday through Monday, the company said.
During the conference, Yu explained YP-P10 to key ophthalmologist opinion leaders and conducted interviews with several global ophthalmology media such as The Ophthalmologist and Eyes On Eyecare.
"We updated US ophthalmologists on the current status of YP-P10 research at the AAO conference and received positive feedback, such as expectations for future research outcomes," said Yu. "The company will participate in various global medical conferences in the future and continue to promote YP-P10 to ophthalmologists around the world, including the United States and Europe, through the creation of a page of welcome in English for the introduction of YP-P10 research."
The company is currently conducting a Phase 2 clinical trial for YP-P10 in 240 patients with dry eye syndrome at seven US hospitals.
YP-P10 is a biopharmaceutical drug using synthetic peptides. Through preclinical testing, the company has confirmed superior anti-inflammatory effects compared to existing drugs and aims to treat the fundamental dry eye syndrome by improving anti-inflammatory and corneal damage.
According to Yuyu, AAO is one of the largest ophthalmology societies in the world, where more than 32,000 ophthalmologists and professors come together each year to share new technologies and information.
[ad_2]
Source link