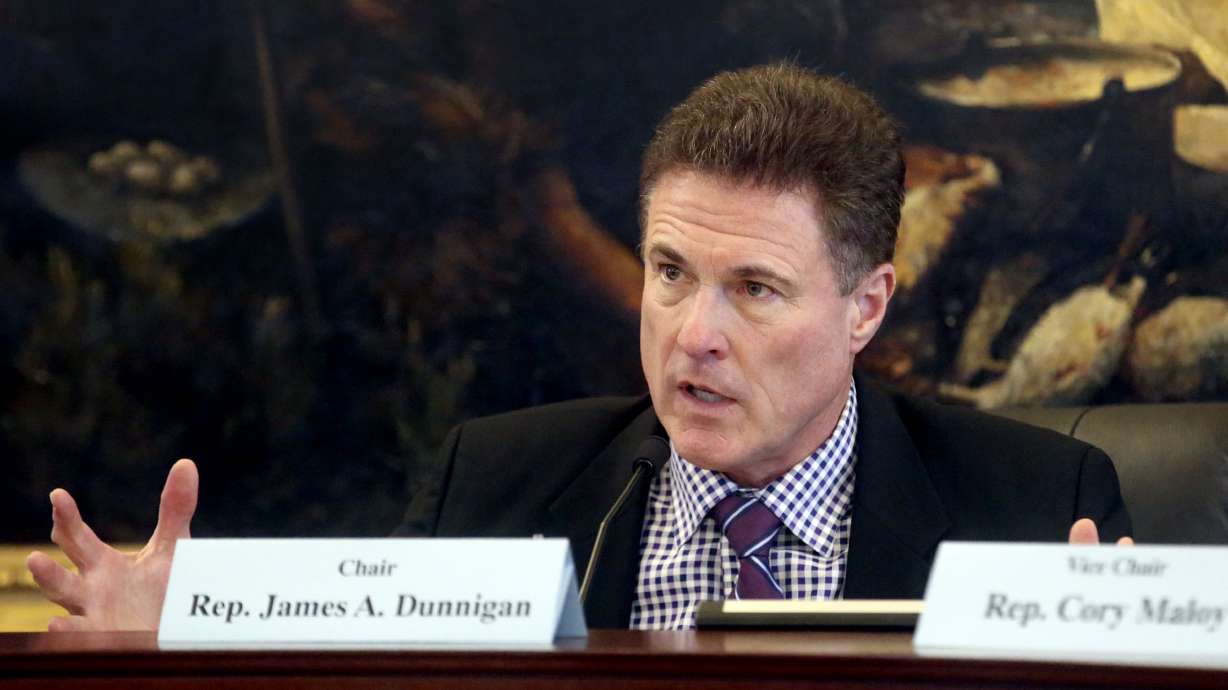 Should non-physicians perform laser eye surgery? Bill would expand scope of optometrists
[ad_1]
Rep. Jim Dunnigan, R-Taylorsville, speaks at the Capitol in Salt Lake City on Feb. 21, 2019. Dunnigan is proposing a bill that would expand the scope for optometrists to perform three procedures with lasers. (Kristin Murphy, Deseret News)
Estimated reading time: 4-5 minutes
SALT LAKE CITY — While some may not know the difference between an optometrist and an ophthalmologist, the question of whether one with less training should be able to perform laser procedures has sparked a heated debate at the Utah Legislature on Monday.
HB224 would allow optometrists to perform three specific treatments using lasers. They would not be able to perform surgeries considered more complex like Lasik.
An optometrist is a doctor of optometry, but not a medical doctor. They receive four years of optometry school but do not need to complete a residency. An ophthalmologist, on the other hand, is a medical doctor who receives four years of specialized training after graduating from medical school.
The bill's sponsor, Rep. Jim Dunnigan, R-Taylorsville, said optometrists contacted him last summer to say they wanted their scope of practice expanded to what they're trained to do. .
"We're not the first to do this. It's been done in nine other states," he said at a House Business and Labor Committee meeting on Monday.
The bill would allow optometrists to perform a laser capsulotomy, which helps a patient see more clearly after cataract surgery; laser trabeculoplasty, which reduces pressure in the eyes of patients with glaucoma; and laser peripheral iridotomy, which relieves pupillary blockages that can cause glaucoma.
According to Dunnigan, many of these procedures have been performed by optometrists without issue.
Weston Barney, president of the Utah Optometrics Association, said optometrists provide eye care to more patients in Utah than other specialists.
Training and education for optometrists includes minor in-office surgeries using lasers, he said, but Utah law hasn't been amended in decades to accommodate changes in training. .
More than 100,000 patients have received these treatments from optometrists, but those numbers are no longer tracked by the government because they are now considered "routine treatments," Barney said.
"Our goal is not to enter the operating rooms that provide major surgical care to patients, but to provide those minor in-office treatments that can save patients time and money," a- he said, adding that the bill would help rural Utahns access better care. .
Sometimes Barney said he sees patients who need one of these procedures, but has to refer them to eye doctors in his office. This means patients have to reschedule, sometimes with inconvenience.
"It could be avoided for a five-minute procedure," he said.
He argued that physician assistants and others who are not doctors can perform minor procedures without going through medical residencies.
But when the meeting was opened for public comment, Dr Jared Parker, an ophthalmologist, expressed concerns about the safety of less trained people undertaking laser surgeries.
He noted that his practice benefits from working in a "unified team" of optometrists and ophthalmologists. When optometrists encounter problems beyond their expertise, they refer a patient to an ophthalmologist.
No training of optometrists has received "approaching" that of ophthalmologists, he said.
Parker pointed to two referrals he received who ultimately did not need the procedures recommended by optometrists. He said if they had not been referred to a more qualified surgeon, they would have received the treatments.
"There is no routine eye surgery. Eye lasers cut tissue and carry significant risks," including retinal detachment and other problems, Parker argued.
"These complications can lead to permanent vision loss," he said.
He added that the procedures are "not as simple as those proposed today".
Rep. Ashlee Matthews, D-West Jordan, said she appreciates "from the perspective that this could potentially move some barriers for low-income and underinsured people to access this care."
She asked what the difference in price would be for patients if an optometrist performed a procedure compared to an ophthalmologist.
Optometrist Dr. Mark Taylor said the procedures are covered by insurance, which dictates reimbursement. The cost would be similar for an optometrist and an ophthalmologist, but the costs are lower when the procedures take place in an office rather than a surgical facility.
"I believe everyone involved is doing important work. And I'm afraid we haven't been able to show that optometrists can't perform these procedures," Rep. Cory Maloy, R-Lehi, told AFP. about the arguments against the bill, calling the cases on both sides "compelling."
Representative Brian King, D-Salt Lake City, however, called the bill a "patient safety issue" and that he would not feel comfortable supporting it.
The bill received a favorable recommendation from the 9-3 committee, meaning it will go to the full House for a vote.
×
Related stories
More stories that might interest you
[ad_2]
Source link