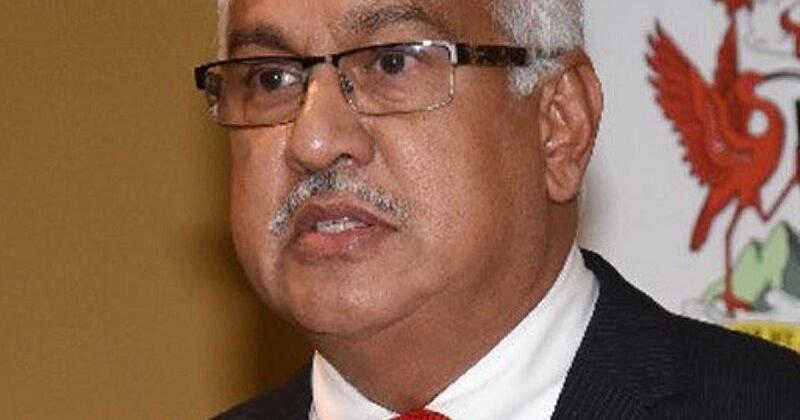 Deyalsingh: Review of Sando after eye surgery mistake | Local News
[ad_1]
Operating procedures have been reviewed following evil eye surgery on Stephan Thomas, 13, at San Fernando General Hospital, Health Minister Terrence Deyalsingh said yesterday.
He said the department was "actively engaged in learning" from the incident to prevent it from happening again.
Deyalsingh said a full investigation was conducted after the incident on January 11, 2021, and the South West Regional Health Authority held a meeting with the child and his parent four days later.
Thomas was born with a strabismus – commonly known as "crossed eyes" – and was joined at the hospital's eye clinic to rectify his condition.
Speaking at her attorney's office in San Fernando on Wednesday, Thomas' mother, Latoya Moses, claimed that a name mix-up led to her son receiving the abuse in 2021.
She said there were two files, one for her son and one for another patient with the same name. She said the spelling was different but the two names were pronounced the same.
Moses said the name "Stephan" was called and they entered the room.
The single mum explained: "I just noticed the light come on and (the caregiver) said, 'I can't see what I'm supposed to see.' She got up, she reviewed the file and she mentioned the cataract. At that point we knew something was wrong…and they informed me that Stephan's lens was ruptured and we were given a prescription.
She said a few days later he said he couldn't see through the damaged eye.
Thomas has since had two surgeries, including one after the artificial lens that was inserted at the hospital turned out to be too big for his eye.
SWRHA meets a parent, his son
During Urgent Question Period at the House of Representatives session in Port of Spain yesterday, Couva South MP Rudranath Indarsingh asked Deyalsingh what the ministry had done in contacting SWRHA to avoid a repeat offense to the Authority. Deyalsingh said: 'When these incidents occur, however unfortunate they may be, as happened with Crystal (Boodoo) Ramsoomair (who died after giving birth to her third child by caesarean in 2011) under the same regional south west health under my predecessor the fact is that these incidents give us time to pause, review standard operating procedures and the Department of Health is actively engaged in learning all we can from this incident to ensure that this incident and similar incidents do not happen again in the future.
He said as soon as Thomas' issue was raised with SWRHA following the proceedings, a thorough investigation was launched and four days later, on January 15, 2021, a full clinical disclosure meeting was held. with SWRHA officials, the parent and/or guardian of the child and the child.
When asked if the SWRHA failed to hand over the child's medical records to lawyers seeking his best interests, Deyalsingh said the case was binding on those lawyers and he was advised not to speak publicly. "to damage the case in any way".
Attorney Prakash Ramadhar and Ted Roopnarine sent a pre-action protocol letter to SWRHA.
On Wednesday, Roopnarine said she intended to make a Freedom of Information Act request for all of Thomas' hospital records.
[ad_2]
Source link